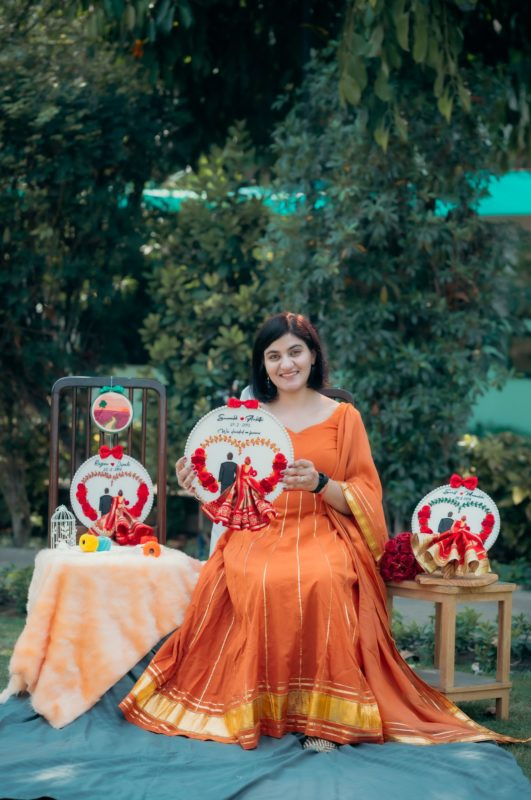 Hoopandart is a unique gifting brand founded by Diksha Kiri in Raipur, Chhattisgarh, India.
Every artist possesses a unique way of seeing things in a different perspective and imagination. Once we acknowledge that power, nothing can stop us, and that's why I believe that art has the ability to transform the world.
In June 2020, during the pandemic, I picked up embroidery. Finishing my first piece left me
in disbelief that I could create such a work of art. It was as if I had entered a whole new
world, and with each subsequent project, my skills improved. Encouraged by my progress, I
began to sell my pieces, and to my delight, people appreciated my work.
Since childhood, I have always dreamt of creating crafts and selling them. Now, that dream is my reality. In my spare time, I devote myself to embroidery. It's a passion that runs deep in my veins, an intoxicating experience that I never tire of.
Juggling the demands of raising children is no easy feat, especially with one child who
requires extra attention due to developmental delays and the other one extra brilliant. They both want me equally and in those tough times my husband Purushottam always supports me. Embroidery gives me a sense of fulfilment that nothing else can match.I lose myself in the stitching,working tirelessly into the night and during any free time I can carve out of my day. It's my escape, my solace, and my art.
When someone receives one of my pieces, it's not just a gift, it's a reminder that they are loved and cherished, and that someone took the time to create something beautiful just for them by their loved one. My art is a powerful symbol of connection and a beautiful way to make someone smile and feel special.
More about us
Hoopandart caters to Corporate Gifting, providing a wide range of personalized options that are perfect for expressing appreciation or recognition for employees, partners, or clients. The brand also offers unique and personalized options for Wedding and Baby Born Invites, making your special moments even more memorable.
The brand is committed to providing a seamless and hassle-free experience to its customers and ships worldwide. Whether you're looking to gift someone special or add a personal touch to your own space, Hoopandart has something for everyone.
With a focus on quality, attention to detail, and customer satisfaction, Hoopandart has become a well-known brand in the gifting industry. If you're looking for a one-of-a-kind gift that will be cherished forever, explore Hoopandart's extensive range of gifting options today.